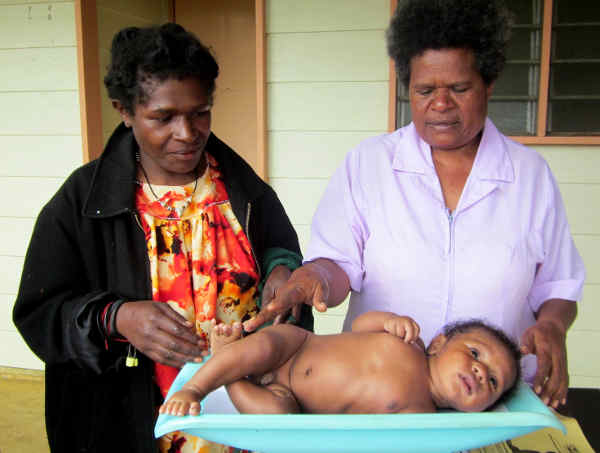 The Western Highlands Provincial Health Authority was created by the Provincial Health Authorities Act 2007. It was established in March 2011, amalgamating Mt Hagen General Hospital and the Provincial Division of Health Services to have one health system to deliver effective health services to the people of Western Highlands.
The Western Highlands Province has a total of 38 health facilities servicing both the Western Highlands Province. The facilities include one provincial hospital (Mt Hagen), three district hospitals (Tinsley, Kotna and Tambul), health centres, health sub-centres and Community Health Posts.
Improved communications and IT is one of a number of strategies adopted by the Western Highlands Provincial Health Authority to improve the quality of care it provides to patients and clients.
Western Highlands Provincial Health Authority is headed by the Chief Executive Officer and a Board of Governance appointed by the National Executive Council to make policy decisions on how the organisation should be governed.
Our motto is "No Mother or Child should die during pregnancy, childbirth or the post partum period with accountability for quality health services"
We have a vision, mission and a set of values that we base our efforts upon to provide an efficient and effective health service to our people.
Vision
To create a healthy society to contribute meaningfully in life with appropriate understanding of good health and the means to deal with diseases should they arise.
Mission
The WHPHA will engage all stakeholders, provide leadership in understanding health and making health a way of life and thereby provide safe, efficient, effective and appropriate health service for all people of the Western Highlands.
Values
The WHPHA adheres to the following values. The organization is comprised of individuals who will value and strive for:
Accountability – Take full responsibility for our own actions and subsequent outcomes.
Integrity and honesty – Strive to uphold the highest moral and ethical standards and behaviour in our performance.
Quality – Aspire to set and maintain the highest standards of excellence in delivering health services and are committed to being efficient in the use of resources in order to consistently deliver quality health services.
Commitment – 

To provide the best health service in the province.
To our people.

Leadership – Understand that individuals can influence and inspire others through being positive role models and leading by example.
Team work – Understand that enthusiastic and cohesive team work creates greater job satisfaction and is an essential component for achieving the WHPHA's mission.
Equality and access – Undertake to promote equality in service provision and employment practices in order to ensure services are accessible to all that WHPHA is mandated to serve.