Alkena Community Health Post (CHP) in the Lower Kaugel area of Tambul/Nebilyer District in Western Highlands will soon operate from a new building and three staff houses following a ground breaking ceremony on Sunday, 1st March 2015.
The new facility will be jointly funded by the Australian Department of Foreign Affairs and Trade and the PNG Government through loan arrangements with the Asian Development Bank under its Rural Primary Health Service Delivery Program.
Alkena Community Health Post currently operates from an old run-down church building owned by the Evangelical Lutheran Church, a facility it has been using for more than 20 years.
Discussions on the setting up of a new CHP had started in 2012 between the Evangelical Lutheran Church of PNG who own the land and the Western Highlands Provincial Health Authority (WHPHA) but no decision had been reached until recently when the Church had finally agreed to handover a portion of its land for the CHP to be built.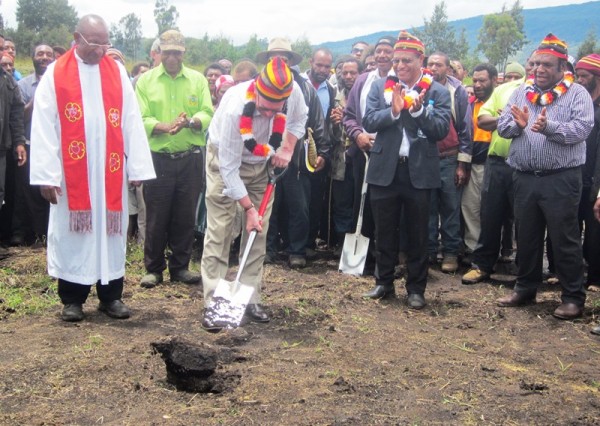 The Chief Executive Officer of the WHPHA, Dr. James Kintwa said the creation of Provincial Health Authorities and Community Health Posts are service delivery reforms which are included in the 2011 – 2020 National Health Plan and the people of Alkena had witnessed the birth of another CHP in the province.
He told the crowd including donor agency representatives and Lutheran Church leaders that the people of Western Highlands do appreciate the kind of services that are provided for them including health, education and others.
Dr. Kintwa thanked the Lutheran Church for giving up their land for the CHP and DFAT, ADB and the Member for Tambul/Nebilyer, Hon Benjamin Poponawa MP, for helping to fund the facility.
He said CHPs were level 2 facilities with Health Centres next up on level 3 to referral hospitals on level 7 and capacities of these different levels of services needed to be improved so that referral systems and modes of care recommended by the National Health Plan are fully operational for people to benefit from.
He said financial support and commitment was needed from the National Members of Parliament for such projects to be set up in the Districts and he was very happy for the support the WHPHA has received from the MPs from Western Highlands.
"I take my hat off to our Governor, Rt Hon. Paias Wingti MP, and our Members of Parliament for giving us great support in providing vital health services to our people. This kind of support cannot be seen in other provinces" he said.
Dr. Kintwa said Tambul/Nebilyer District would have two more CHPs built this year – one at Tsinzipai and the other at Bonga and Mul/Baiyer District would also have two built at Sanap and Kanimareta, all under the Rural Primary Health Services Delivery Program and all this was happening because of good support from the local MPs and donor agencies.
"The Western Highlands Provincial Health Authority is fortunate to have the support of donor agencies like DFAT and ADB and our MPs and because of this we are seeing more health facilities being built", he said.
He said through the support of the same group, construction of Kotna District Hospital has started and work would soon begin on Tambul and Tinsley District Hospitals.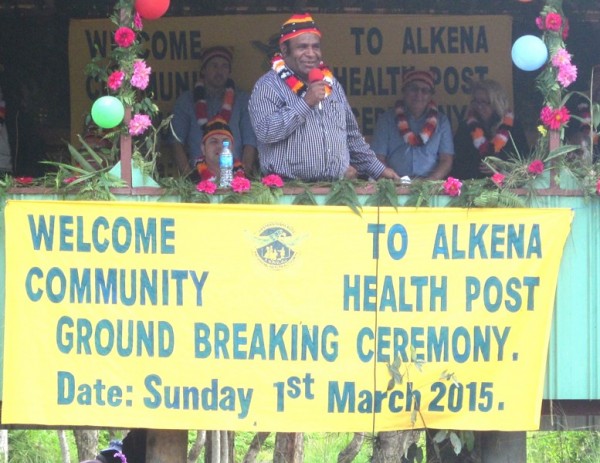 Minister for Labour and Industrial Relations and Member for Tambul/Nebilyer, Hon. Benjamin Poponawa MP thanked DFAT and ADB for partnering with the Government to provide such vital services.
He said the WHPHA was the first to build Community Health Posts in the country and acknowledged the support of the donor agencies. He also thanked Dr. Kintwa for his good leadership in ensuring such facilities were planned and built on time.
Minister Poponawa also said that the CHP needed to refer critically-ill patients to a bigger facility for proper care and treatment and this meant that the construction of Tambul District Hospital needed to be fast tracked. He said he had made available K6 million of the total K16 million to build the hospital and he needed partners to assist with the rest.
Mr. James Hall, the Minister and Counsellor for Development Cooperation at the Australian High Commission in Port Moresby said DFAT partnered with ADB and WHPHA to build CHPs and other services such as water supply and it would donate K2 million towards the construction of Tambul District Hospital.
Asian Development Bank's Vice President, Administration and Corporate Management Operations, Mr. Bruce Davies said ADB was usually involved in big projects such as water supply, roads and infrastructure which were important to the people.
He said as long as there was good leadership at the National and Provincial Government levels, ADB was willing to help, especially in areas of health and education where such services would improve the lives of many people.