Mt Hagen City for once became a city that it should be – clean and tidy – when concerned citizens took to the streets during Christmas and the New Year and cleaned it up.
Initiated by the Western Highlands Development Forum, an organization comprising concerned elites from the province, the city was first cleaned up on 29th December 2014 and then on 15th January 2015 to make it clean and healthy for everyone to do business and other activities.
Members of the Forum led groups in different parts of the city and carried out the clean-a-thon on both occasions, making the city look clean and tidy as it should always be.
Local radio stations such as Eagle FM Radio Western Highlands, Trinity FM and Krai Bilong Bible Network (KBBN) assisted by broadcasting awareness messages from the Forum members a few days earlier, urging the public to participate in the clean-up.
As a result of these messages, the response from the public was quite overwhelming with people turning up in big numbers on both occasions to clean up their city.
Some corporate citizens operating shops and other businesses in the city also took ownership of the city's cleanliness by cleaning up their respective front and back yards, something which was always left to the City Authority to do.
Mt Hagen City Authority Manager, Pious Pim organized trucks to pick up all the rubbish and dispose of them at the city dump at Kerebug.
Staff of the Western Highlands Provincial Health Authority also participated in the clean-up campaign. Led by their Chief Executive Officer, Dr. James Kintwa, the non-clinical staff showed their concern for the health of those living and working in the city and took to the streets on both occasions and cleaned up the city.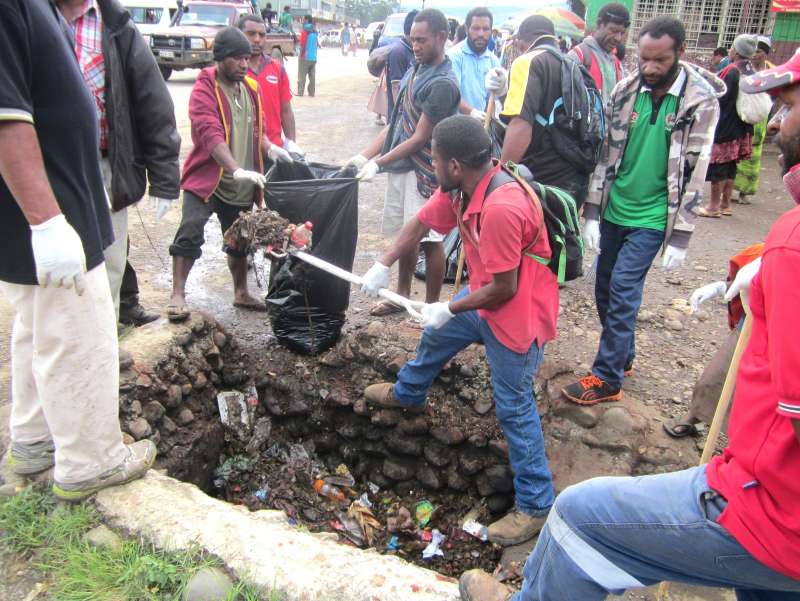 The city became spotlessly clean on both occasions with blocked water ways and pipes thoroughly cleaned and a lot of people were heard publicly appreciating and commending those who were involved in organizing and cleaning up the city.
The organizers are now planning to make this a regular event, preferably on a quarterly basis and are appealing to everyone living and doing business in the city as well as those visiting only to keep it clean at all times and throw their rubbish in the appropriate rubbish drums placed around the city.