Kotna Health Centre in the Dei District of Western Highlands will now be upgraded to a District Hospital as part of plans by the Western Highlands Provincial Health Authority to improve health services in the rural areas.
The upgrading of the facility will cost about K8.5 million and the Member for Dei, Hon Wesley Nukundi MP has taken the lead by making available K5.8 million from his District Service Improvement Program (DSIP) funds towards the cost of renovating existing buildings and constructing new wards, staff houses and other facilities.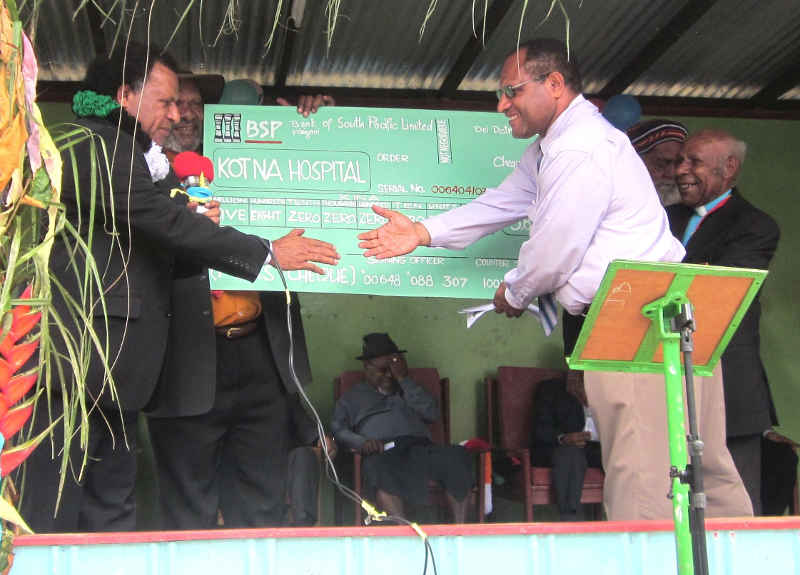 Hon Nukundi presented a dummy cheque during a ground breaking ceremony at Kotna recently to launch the new district hospital, witnessed by thousands of people including Prime Minister, Hon Peter O'Neil MP and some of his Cabinet Ministers and former prime ministers including Sir Julius Chan MP, Grand Chief Rt Hon Sir Michael Thomas Somare MP and Rt Hon Paias Wingti MP.
Hon Nukundi said the money was made available so that the people of Dei could have a better health facility to get treatment from and urged them to leave their ethnic differences aside and work together with him to develop the district.
He said a good example of this was that former prime ministers, Sir Michael Somare, Sir Julius Chan and Paias Wingti had left their political differences aside to work with Prime Minister O'Neil to develop this country and the people of Dei must do the same.
Kotna Health Centre is run by the Evangelical Lutheran Church under a partnership between the Church Health Services and the Western Highlands Provincial Health Authority.
Prime Minister, Hon Peter O'Neil said health, education, infrastructure development, law & order and economic growth were important for the country's development and the government would continue to give priority to these key areas.
He said districts received a lot of money in the form of the DSIP funds (K10 million each year) and everyone should work together to deliver essential services such as health which was an important infrastructure for the people.
Hon Peter O'Neil was in Mt Hagen recently with some of his Cabinet Ministers including Health Minister, Hon Michael Malabag MP and former Prime Ministers and current Governors, Sir Michael Somare, Sir Julius Chan, Paias Wingti and Sir Rabbie Namaliu for the launching of the Western Highlands Provincial Headquarters.
Mr. Malabag said health was a very big priority area in the social sector along with education and urged the people to look after schools and health facilities that were provided for them.