Twenty babies born from HIV-positive parents and who have been cared for under the Prevention of Parents to Child Transmission (PPTCT) Program in the Western Highlands have been released from the Mt Hagen Provincial Hospital.
The children who come from various parts of the Highlands region including Western Highlands have tested negative after their parents had faithfully gone through the program over the last two years.
The children who are now over two years old were released during an emotional but happy ceremony at the hospital last Friday in which they were all issued with Certificates of Release.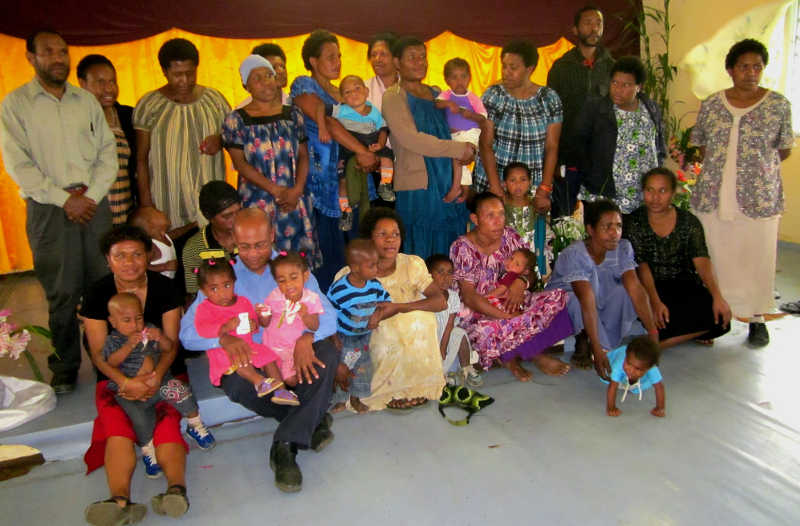 The Chief Executive Officer of the Western Highlands Provincial Health Authority (WHPHA), Dr. James Kintwa was happy to present certificates to 11 of the 20 children who were present, adding significance to the importance of the occasion.
The PPTCT program is run by the Western Highlands Provincial HIV/AIDS Services, set up jointly by WHPHA and Clinton Health Access Initiative (CHAI), a partner in the delivery of health services in the province to provide continued care and treatment for those living with HIV and AIDS.
When the mothers tested positive to HIV during maternal and child health and antenatal clinics, they were put on anti retroviral therapy programs starting from the first month of pregnancy to delivery to prevent the unborn babies from being infected with the virus.
Upon delivery the babies were then tested three times for HIV – first at six weeks old, then at 18 months and the last at 24 months old. The 20 children tested negative to all three tests, resulting in their release as normal healthy children.
Provincial HIV/AIDS Services Coordinator, Petrus Kombea said many mothers do not go to MCH clinics and therefore do not know their HIV status until they go for delivery but the mothers of these children had visited the clinics from the first month of pregnancy and this had helped prevent the children from being infected.
Highlands Regional HIV/AIDS Coordinator, Dr. Petronia Kaima thanked the parents and staff of CHAI and WHPHA for working in partnership and supporting each other, resulting in the positive outcomes.
She said the global aim for HIV/AIDS was to achieve zero new cases for new born babies by 2015 and what was happening in Western Highlands was promising and urged all partners to continue their good work and help reduce the spread of the disease.
A HIV-positive parent who was present for the occasion said he was thankful to God that his child was HIV-negative. "My child is healthy and I am very happy", he said.
"Health plays a very important role in the development of this country and I thank all the health workers for the important roles you play", he said.
The Deputy Chief Physician for the Highlands region, Dr. Wesong Boko said there was time for everything and this was a time where parents and health workers should rejoice for their hard work.
"We can now celebrate the fact that these children are medically and scientifically negative of HIV after three tests and can go home now. All your (parents and health workers) efforts have paid off and you can be happy", he said.
Chief Executive Officer, Dr. James Kintwa said delivering health services in the province was a big task and the Western Highlands Provincial Health Authority needed partners to help deliver these services.
He said to this end, when CHAI wanted to establish itself in Western Highlands and partner with WHPHA, he said they were welcome to come and the result was positive and he thanked the organization on behalf of the Board of Governance.
Dr. Kintwa said what was witnessed could become a role model for others to see and do and urged parents to look after these children well as it was their biggest investment.
"One of these children could be a doctor, or a lawyer or a politician and this investment by all, especially the parents now to receive such clearance and into the future is important", he said.
"Our motto here is no mother or child should die during pregnancy, childbirth or the post partum period and the work of PPTCT is part of this", Dr. Kintwa said.
He said all health services should be brought under the hands of God as God's life was the answer to many of the society's problems. He added that Mt Hagen Hospital would not be called "Hagen hausik" (pidgin for house sick) but would be declared "Hagen haus orait" (Hagen healing house or hospitale) as patients come in sick but go out healed.