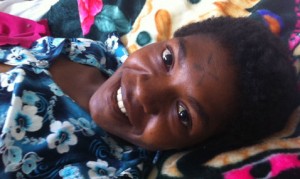 Twenty-eight-year-old Susan Moses is a young mother from Togban village in the remote Lower Jimi area of Jiwaka Province.
She is a special case as it confirms our actions which is consistent with our motto of "no mother or child should die during pregnancy, childbirth or the post-partum period" and how different partners can work together to achieve a good health outcome for our mothers and children as she has miraculously survived a life-threatening situation following the delivery of her new-born baby.
Susan comes from a geographical location where access is by air only with not many health facilities close by. She had retained placenta after giving birth to her fifth child in May last year but with different partners working together to improve health service delivery in the Western Highlands, she was medevac'd to Mt Hagen and saved.
Help did not reach the Jimi area quickly and the community at Togban and nearby Kwima villages had to stretcher her over a long distance for two days and two nights before reaching the nearest airstrip at Koinambe where she was airlifted to Mt Hagen.
The Nurse-In-Charge of Togban Health Centre had attended to her immediately after the delivery and tried to remove the placenta by following all protocols of obstetrics and gynaecology (O&G) management procedure but without success. He then called Mt Hagen Provincial Hospital for immediate help, using the closed user group (CUG) digicel mobile phone powered by solar energy. With quick response from third level airline, MAF (Missionary Aviation Fellowship) which diverted a flight from Goroka to Mt Hagen, the young mother was airlifted to Mt Hagen and admitted to the hospital.
The Western Highlands Provincial Health Authority (WHPHA) greatly acknowledges and appreciates MAF for all the lifesaving flights that they have provided.
WHPHA Chief Executive Officer, Dr Kintwa has thanked the hard working staff in the rural areas for doing a great job in ensuring the patient was cared for at all times during the long journey from Togban to Mt Hagen.
He has also thanked Digicel PNG for its wide mobile coverage of the remote areas of the country which has enabled easy access to communication between the doctors and the nursing officer and MAF for agreeing to divert its flight from Goroka to Mt Hagen to pick up the woman at Koinambe.
"The life saved contributes to maternal health outcomes and is a result of how health services rely on civil society, private businesses and individuals. Health is everybody's business.
"We enjoy good partnership with many individuals, businesses, NGOs and faith based organizations (FBOs) and we will continue to depend on all of them for health service delivery", Dr. Kintwa said.