Many people in Western Highlands and Jiwaka Provinces who have had problems hearing from one or both of their ears can now hear clearly, thanks to the Starkey Hearing Foundation of America.
The Foundation which provides free hearing aids to third world countries visited Mt Hagen on Sunday, 26th May 2013 and restored the hearing of about 300 people, both young and old. This was their first visit to Mt Hagen and the second to PNG. Last year they visited Goroka which was also included in this trip together with Port Moresby.
Founder of the Foundation, Bill Austin and wife Tani flew into Mt Hagen in their private jet at about 2pm with a contingent of more than 40 employees, sponsors, security personnel and media crew to give new hope to those with hearing problems.
Those with hearing problems from the two provinces had been screened and identified by Ear, Nose & Throat (ENT) specialists from Mt Hagen Provincial Hospital late last year and the team wasted no time, getting straight to work after a formal welcome ceremony at the hospital.
Chief Executive Officer of Western Highlands Provincial Health Authority, Dr. James Kintwa with members of his executive management team and the Deputy Chief ENT specialist for Mt Hagen Provincial Hospital and the Highlands Region, Dr. Sam Endican were at Kagamuga airport to welcome the visitors.
On arrival at Mt Hagen Hospital, the visitors were given a rousing welcome by flower girls and a traditional singsing group before the formalities began and the hearing devices fitted into the ears of those who waited eagerly to receive them.
Dr. James Kintwa when thanking the team on behalf of the people of Western Highlands and Jiwaka said no-one in the region wore hearing aids except maybe a few expatriates because nationals could not afford to buy them.
He said Mt Hagen Hospital was a referral hospital for the Highlands Region covering 40 percent of the total population of PNG and had a big task of delivering health services to its people.
Dr. Kintwa said Starkey Hearing Foundation's trip to PNG and especially to Mt Hagen was for a worthy cause and thanked the team on behalf of those with hearing defects for giving them another chance to hear properly.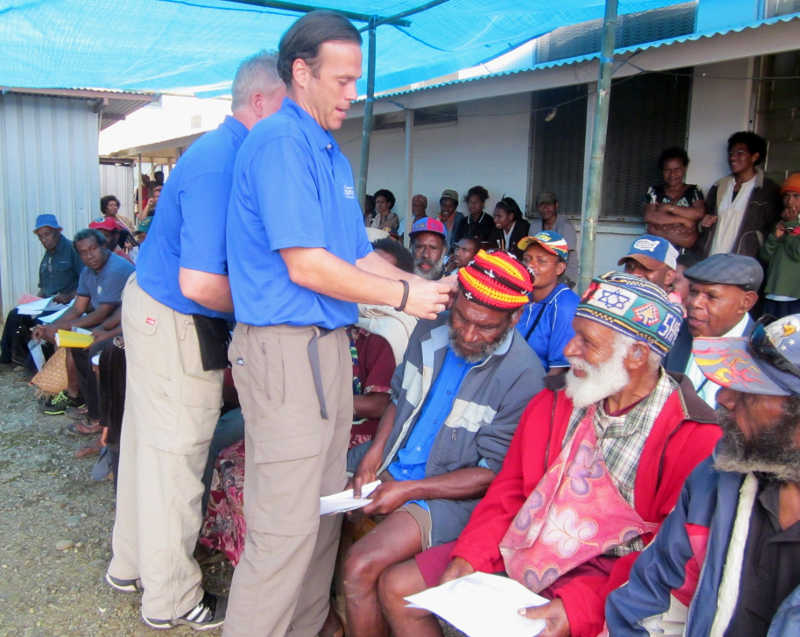 He said those identified and present to receive hearing aids made up only about 25 percent of the population of the two provinces that need such hearing aids and he hoped a good relationship would be built between Western Highlands Provincial Health Authority and Starkey Hearing Foundation so that the team could return and help the other 75 percent of the population
Founder of Starkey Hearing Foundation, Bill Austin told the crowd that loss of hearing was like some-one was a prisoner and his team was here to help such people.
"We are here because we love that man from Galilee (referring to Jesus Christ). We've come here to meet the rest of our family we did not know before and we want to help" he said.
Mr. Austin said if there were people who needed to be checked and fitted with hearing devices, they should be brought in so that his team could return and help them.
He said he has been doing this with a team of dedicated people who could do other things but decide not to because "we want to help".
"I don't want to talk about it, I want to do it and help people. If you have some-one with hearing problem, bring them. You find them and we will come and help them", Mr. Austin said.